Kayaknya semua skincare yang gue review itu dari brand "Laneige" ya? Iya gak sih....
Karena waktu itu ada fase dimana gue sangat mengagumi brand ini, karena brand ambassadornya... Gak tau brand ambassadornya? Itu loh, yang mirip sama gue *plak*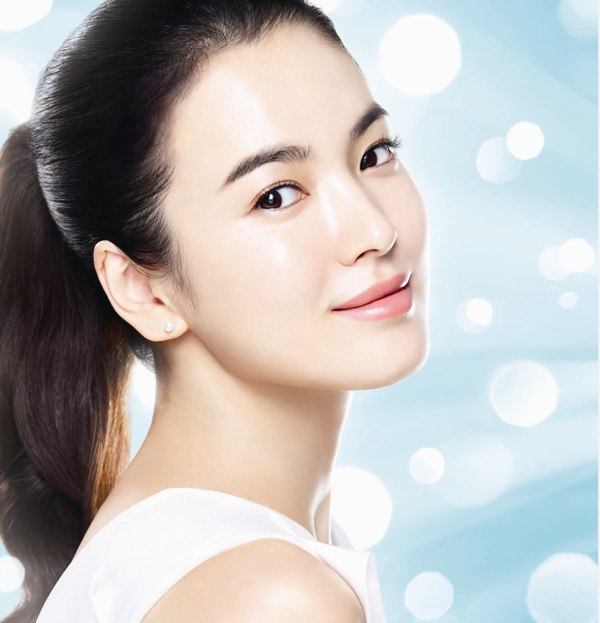 Gue tau sih, mungkin dia juga gak full pakai Laneige buat perawatan mukanya.
Tapi gue pingin percaya, bahwa dengan pakai Laneige, gue bisa secakep Song Hye Gyo.
Yakinkan aku, kak.
Dan ternyata, produk-produk Laneige itu selalu menepati claim nya lho.
Jarang banget kan, nemuin suatu produk yang menepati claim? Well, at least di gue sih.
Water Bank Eye Gel Cream
Jadi kamu ini gel atau cream?
Kamu siapa?
Kamu sperti jelly~
Ini adalah Eye Gel yang targetnya adalah melembabkan area mata. Area mata yang lembab itu menghindarkan dari kerutan lho! Makanya masalah orang dengan kulit kering itu salah satunya adalah kerutan, contoh: Kerutan di relung hati, karena kehidupan asmara lu kering. Gitu.
Eye Gel ini dari series Laneige Waterbank.
"... revitalizes easily-dried eye area"
Untuk melembabkan mata yang kering. Tapi bukan diolesin ke matanya ya, bukan.
"Mak mata saya kemana mak?!"
Packagingnya terbuat dari plastik-kaca. Maksudnya? Ya plastik, tapi kaca. Gitu. Hehe. Ehehe.
\
"Heheh. Heheheh. Hehheheeh"
Menurut gue, packagingnya 'mahal', dan bagus. Sesuai dengan harga Laneige yang emang kisaran 300rb ke atas.
Di atasnya ada sekat plastik, dan sedikit bulatan aneh untuk membuka sekatnya. Menurut gue bentuknya lucu!
Teksturnya gel, gel semi transparan keputih-biru-an (?!)
You geddit lah ya, ciri khas Laneige pan gitu, warnanya biru muda yang muda banget, semuda daun.
Untuk wanginya, agak menyengat. Gue sih gak apa, cuman banyak orang yang gak suka skincare ber-wangi. kalo skincare ber-wang gue mau hehe hehehe
Sebenernya gue ini lucu gak sih?
....
1. Di gue, eye cream ini memberikan 12 jam kelembaban. Serius!!!!!!!!
Kok tau? Ya karena gue nyoba lah...
Jadi jam 8 pagi gue apply ke mata, jam 8 malem masih berasa kelembabannya. Is this the new mejik or what.
Itupun jam 8 malem karena gue harus cuci muka, Coba kalo gue gak cuci muka seharian, mungkin eye creamnya akan masih bertahan,
cuman........
2. .....ya gitu, nyerepnya lama karena konsistensi gel nya agak pekat, dan meninggalkan kesan lengket di mata.
Like, super lengket, gak juga sih, but you know what i mean. Susah kering, susah menyerap.
Cuman buat gue, gak apa-apa. Toh hasilnya nyata, 12 jam kelembaban. This is what i need.
Bisa diliat di bawah mata gue, ada pantulan eye gel.
3. Membuat pemakaian concealer lebih halus, rapih, dan gak creasing. Oh, dan lebih sedikit pemakaiannya.
Creasing itu apa sih? Creasing itu sebuah tragedi tentang concealer yang masuk kedalam kerutan tipis mata.
Dengan eye cream ini, concealer yang gue butuhkan gak sebanyak biasanya. Karena gampang untuk nge-blend. It glides easily on the under-eye. Hemat deh!
4. Kalau dibandingkan dengan Skinfood Salmon Eye Cream yang didewakan semua wanita, that product won't stand a chance!
Seriusan deh, gue soalnya pernah pake yang Skinfood. Dan tidak melembabkan dan mencerahkan seperti janjinya.
Mungkin di kalian beda kali ya, cuman ya di gue akhirnya Skinfood Salmon Eye Cream jadi numpang parkir di kamar mandi gue aja.
5. Dan gue baru sadar, bahwa akhir-akhir ini gue gak pake concealer di bawah mata!
My Mom knows how much i really depends on concealer.
Tapi gue gak pake beberapa hari ini. Mungkin karena faktor malas, tapi gue merasa fine-fine aja.
-This product contains magic.
-Pretty packaging.
-Gak bisa dideskripsiin, too much awesomeness.
-Sangat-sangat-sangat hebat dalam melembabkan mata.
-Agak mahal.
-Agak berat, gak travel friendly.
-Wanginya agak menyengat.
-Susah menyerap.
-Lengket.
Repurchase? Kalo punya duit, ato nggak kalo dikasih.
Tapi kalo gue lagi punya duit............. gue akan beli pabriknya ajah. Sama beli sahamnya. Sama beli CEO-nya sekalian.